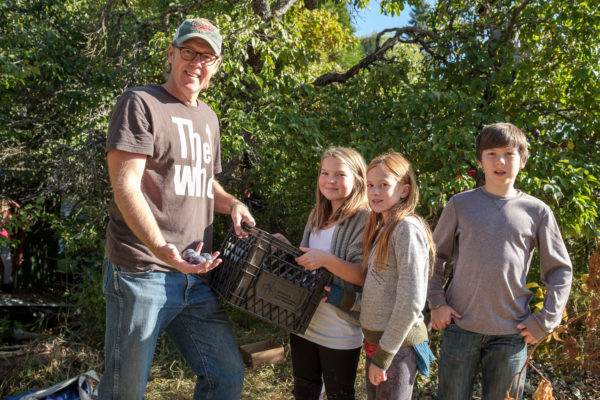 The program is in operation from early-summer to late-fall when produce is available for harvest. One third of the harvest goes to the donor, one third to the volunteer and one third to our food bank program to distribute. On average, Harvest Rescue gleans 10,000 pounds of produce every year. This reduces food waste in our community, and bear-human interactions, while also sharing it with people who might not otherwise enjoy it.
Ways to get involved:
Volunteer to harvest fruit or vegetables once or many times throughout the season. Volunteers learn the advantages of sourcing food locally, and are trained in proper harvesting techniques. Make new friends, and take home fruit! The main tasks include picking, sorting and transporting fruit. Please fill out the form below so we can gather some of your info and keep you in the loop with regular updates. Read below about our new, twice a week, group picks.
2019 VOLUNTEER REGISTRATION FORM
Offer your fruit tree(s) to be gleaned. Harvest Rescue relies on local homeowners who can offer up their fruit trees and/or garden produce to share with the community. Our focus is on picking fruit within the City of Nelson and from "Blewett to Balfour"—but we can connect you with fruit gleaning organizations in neighbouring communities. Donors are offered a 1/3 portion of any fruit harvested. Please note that Harvest Rescue cannot accept wormy, over-ripe, or damaged produce. We also don't have the capacity to take away compost from fruit trees.
Click the link below to Register Your Tree for 2019, then expect a call from us in the coming weeks to check on how the fruit is looking. Alternatively, call us two wees before you think your fruit will be ready to pick. Note that due to the "volume of calls" we can't guarantee we'll be able to get your fruit picked—but we'll sure try! Also, "low-hanging fruit" on even ground is preferred.
Donate your own surplus fresh produce. It can be dropped off at the Nelson CFC on Mondays between 9 am and 1 pm and Wednesdays from 1 – 5 pm  (or by appointment).
NEW(ish) APPROACH.
Because we live in such an abundant fruit region, we often get more calls than we are able to accommodate—both from people looking to have their fruit picked, as well as volunteer pickers. We are  in our second season of trying out a new approach featuring a combination of regular weekly picking times and a FaceBook group (where pickers and fruit tree owners can connect). Read more below!
Regular Weekly Group Picks  – meet at the Nelson Community Food Centre, 602 Silica Street on the corner of Josephine.
Tuesdays 8:45 – 11:45 am, Fridays 8:45 – 11:45 am, August 4 – October 6. Come to one or come to  'em all. Please make sure to call us at: 250 250-1633 (ext. 4) to let us know you'll be joining in the fun. Knowing numbers is very important to this whole process. We gather at the Nelson Community Food Centre and disperse from there. Picking equipment will be available.
Facebook Group "Harvest Rescue Fruit Exchange"
We are turning to social media to help fruit-tree owners connect with fruit-tree pickers.  If you use Facebook, and would like to find even more opportunities to pick or share fruit, please join the group called "Harvest Rescue Fruit Exchange".  Note that the Nelson Community Food Centre administers the Facebook group, but cannot be responsible for anything that happens on self-organized picks. We will accept donations of excess fruit for our Good Food Bank, but it is not required to join the group.
Want to volunteer, donate or get more info?
Contact Dayna at dayna@nelsoncfc.ca, or 250-354-1633 X 4.